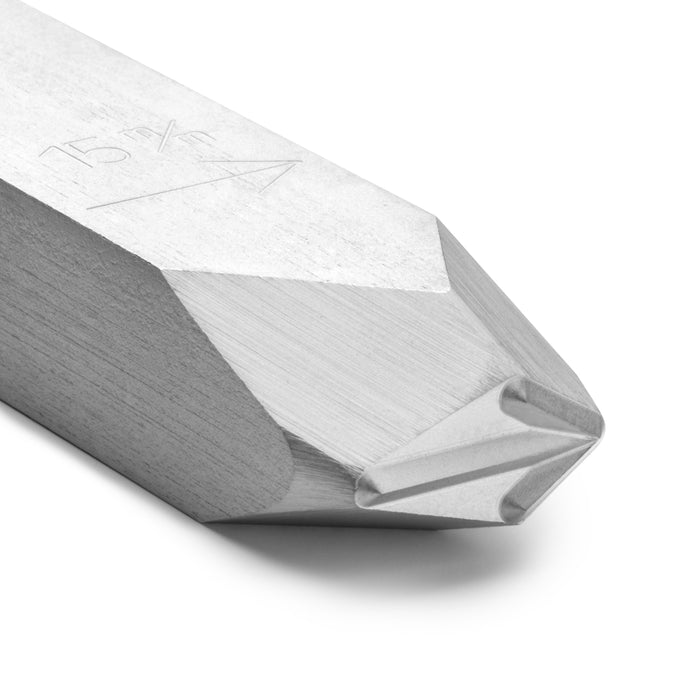 Pickardt Arrow Symbol Steel Hand Stamp
Current Price
Shipping and tax calculated at checkout

Arrow Symbol Steel Hand Stamp
Introducing our high-quality steel hand stamp with the arrow symbol - a must-have tool for locksmiths, blacksmiths, and other professionals who need precise marking and engraving capabilities. Made with premium quality steel, this stamp is built to last and withstand the demands of heavy use.
The arrow symbol is a versatile marking that can be used for directional purposes, to indicate movement, or as a visual cue for instructions. With this stamp, you can easily add the arrow symbol to a variety of surfaces including metal, plastic, and wood.
Our steel hand stamp is designed with an ergonomic grip to provide comfort and precision during use. Its compact size also makes it easy to store and transport, so you can take it with you wherever you go.
Whether you're a professional locksmith, blacksmith, or DIY enthusiast, this high-quality steel hand stamp is the ideal tool for your marking and engraving needs. Invest in quality and precision with our steel hand stamp with the arrow symbol today! Don't wait, order now and take your work to the next level!


Body measurements (AL = Arrow Length)
| | |
| --- | --- |
| AL 1/4" (6 mm) | 12 x 12 x 85 mm |
| AL 3/8" (10 mm) | 16 x 10 x 90 mm |
| AL 19/32" (15 mm) | 25 x 15 x 100 mm |
Uses:
Arrow Symbol Steel Hand Stamp are used to mark anything from Aluminum to Stainless Steel, certain leathers, plastics and sometimes wood, with numbers, letters or symbols.
Manufactured from special Carbon Steel for more demanding environments
Hardened by hand to precise limits to ensure maximum safety in use
Sharp faced, exact character engraving using CNC technology
Clear positive impressions
Bevelled to the engraved face for ease of sighting
Chemically Nickel Plated to resist rust
Packed in strong Plastic Cases
MADE IN GERMANY