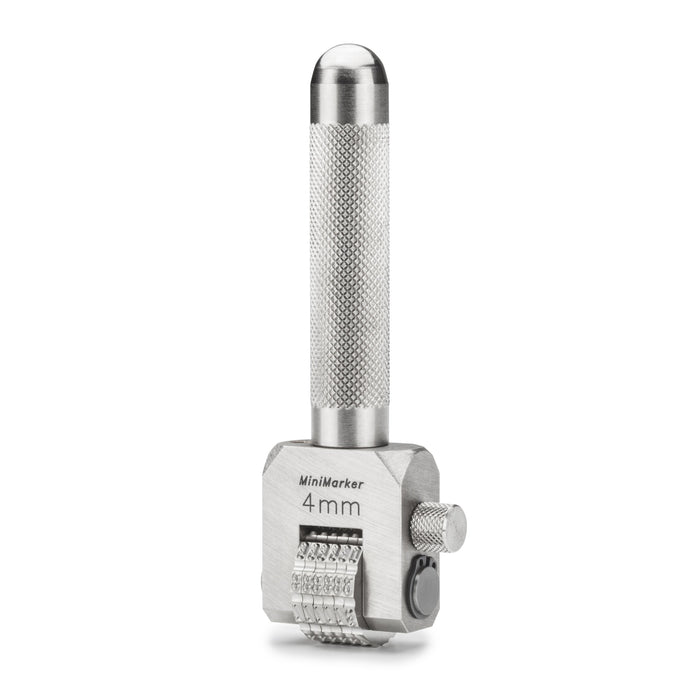 Pickardt MiniMarker Type A Numbering Head with 6 Wheels
Current Price
Shipping and tax calculated at checkout

Pickardt MiniMarker Type A Numbering Head features 6 wheels of high-quality steel, providing durable and accurate engraving and marking at an affordable price.
MiniMarker Type A Numbering Head with 6 Wheels perfect for indent marking of batch codes, part numbers, serial numbering, date stamping, year marks and other random changing number sequences

CNC controlled engraved wheels for clear and even depth of impression for a quality mark.
Many products require batch codes, dates and serial marking that does not warrant huge spends on marking machinery maybe due to a small production run or even capital spend restrictions.

HW Pickardt offers a full range of indexing units for use by hand and hammer to offer fast, consistent quality marks. 
MiniMarker small embossing unit
Small and compact design

Case dimensions 40 x 20 x 45 mm

Impact handle or clamping pin screwed in

Font sizes 5/64" + 1/8" + 5/32" (2 mm + 3 mm + 4 mm)

6 wheels

11-part engraving arrangement

Engravings from 0 - 9 and space

For hammering in or for installation in a press

Standard with hammer handle - clamping spigot on request

All parts chemically nickel-plated

Individual parts standardized by the company and available individually

Quality Product MADE IN GERMANY
Quality of our Rotary Stamps
We at Pickardt Marking Tools pride ourselves on the quality of our marking tools. Made with carbon steel and hardened by hand, our steel stamps are chemically nickel-plated to provide an extra layer of user safety and protect from rust. These symbol stamps can be used in the most demanding areas such as steel construction, die construction, forging and blacksmithing. They are equally at home in the DIY and hobby sector.
Why quality is important:
Pickardt is all about offering Safety, Reliability and Value.
The number of injuries related to Striking Tools is at a higher percentage than any other tool category without the tool itself adding to the danger.
Pickardt prides itself on offering Tools that are heat treated and so are more durable and long-lasting, and not brittle where shrapnel could cause various injuries with the most severe usually involving the eyes.
Unfortunately, it is impossible to keep people from hitting the tool in the wrong place or missing completely sometimes. To try and safeguard the users hand and fingers from being hit, Pickardt steel stamps are often longer for improved grip or offered with indestructible hand grips on the shank of the tool or even supplied with a separate safety grip.
Summary
Pickardt standard marking tools offer affordable indent marking solutions for part identification and traceability to meet Government regulations and industry standards.
The Pickardt Pin Locked Impact Stamp ideal for random changing inscriptions, batch numbering or serial marking of parts

Quickly mark clear and legible impressions onto most metals and many plastics.

Solid construction for high loads
Striking Cap with integral hand guard
Standard character sizes 2, 3 and 4 mm
6 wheels
Engraving on each wheel : 0 - 9 and spacer for non marking position