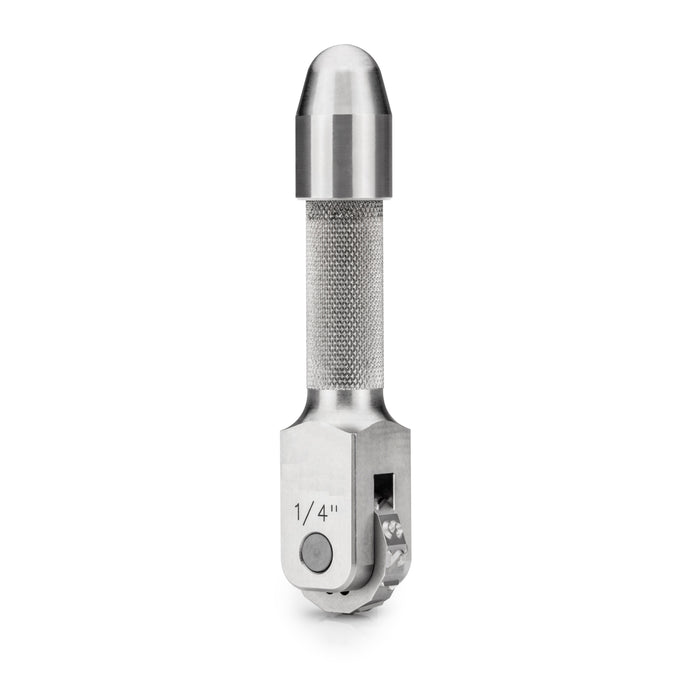 Pickardt OneWheel Rotary Steel Stamp
Current Price
Shipping and tax calculated at checkout

OneWheel Numbering Head for Precise Sequential Marking
Introducing the OneWheel Numbering Head, your ultimate solution for engraving and marking products with sequential numbers. In industrial, manufacturing, or quality control settings, this high-quality numbering head delivers clear and consistent markings on various materials.
Durable Construction and Custom Sequential Numbers
Crafted from robust materials, our numbering head features a precision-engraved wheel with numbers 0-9, allowing you to create custom sequential numbers up to 9. Its user-friendly design ensures a comfortable grip and delivers consistent and clear markings.
Compact and Convenient: OneWheel Numbering Head
Our numbering head's compact size allows for easy storage and transport, making it suitable for on-site and off-site marking tasks. Enjoy an efficient marking process, thanks to its comfortable grip and striking head that consistently produces clear markings.
Versatile Marking Solutions
Whether it's for inventory management or regulatory compliance, the OneWheel Numbering Head excels. It's perfect for marking product serial numbers, batch numbers, date codes, and more.
Quality Assurance for OneWheel Numbering Head
At our company, we prioritize quality. We use premium materials and skilled craftsmen to meet rigorous quality standards.
Custom Solutions Available
Need custom numbering heads? Our experienced team can create designs tailored to your specifications, ensuring clear and precise markings on various materials.
Trustworthy Marking Solutions
Count on us for reliable and efficient marking solutions. Choose the OneWheel Numbering Head for clear and precise sequential markings every time.
Pickardt Rotary Stamper for Efficient Character Marking
Eliminate the hassle of individual hand stamps with the Pickardt Rotary Stamper. Its robust, compact design allows for easy character selection and secure placement using the ball pin. Quickly and precisely mark individual characters with this convenient tool.
Summary
Numbering Heads are versatile tools for marking a range of materials, from aluminum to stainless steel, certain leathers, plastics, and sometimes wood, with numbers, letters, or symbols.
Wheel consists of CNC engraved, sharp-faced characters.
Wheel contains 13 characters: 0-9 and / + -
All parts are chemically Nickel Plated.
This marking tool is available with character sizes: 1/8", 3/8", 3/16", and 1/4" (3 mm, 4 mm, 5 mm, 6 mm, 10 mm).
Designed for Max. Surface Hardness Rockwell C59 and ideal for steel grades up to 1500 N/mm².