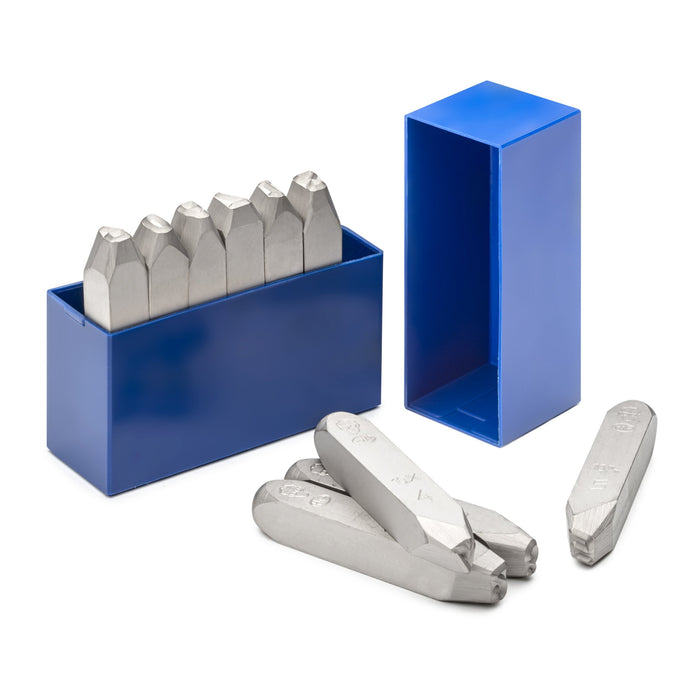 Pickardt Distinct Font Hand Stamp Set Premium Quality
Sold out
Current Price
Shipping and tax calculated at checkout

Pickardt DISTINCT FONT Hand Stamp Set
Welcome to the world of precision and craftsmanship with the Pickardt DISTINCT FONT Hand Stamp Set. Designed and manufactured in Germany, this exceptional hand stamp set is a testament to quality, reliability, and innovation. Whether you're a professional in need of precise markings or a DIY enthusiast looking for superior tools, our DISTINCT FONT Hand Stamp Set delivers exceptional results every time.

Exceptional Font, Exceptional Results

Our DISTINCT FONT Hand Stamp Set is crafted with meticulous attention to detail. The special font face is not just distinctive, but also robust, ensuring a dependable and consistent stamping experience. It's the perfect choice for customers who demand nothing but the best in quality.

Versatility in Marking

One of the standout features of this hand stamp set is its ability to mark rough or uneven surfaces with ease, whether you're working with metal, wood, or other materials. The unique font style ensures that even if a number cannot be completely stamped in, it can still be easily recognized. This versatility makes it an invaluable tool for a wide range of applications.

Direct from Germany to Your Workspace

When you choose the Pickardt DISTINCT FONT Hand Stamp Set, you're investing in quality that's born in Germany. Your product will be shipped directly from our factory, ensuring you receive the best craftsmanship and materials. We take pride in our German engineering and precision, and it's a commitment we extend to every customer.

Sizes to Suit Your Needs

Our DISTINCT FONT Hand Stamp Set comes in various sizes to meet your specific requirements:


LS 1/4" (6 mm): 12 x 12 x 85 mm
LS 5/16" (8 mm): 14 x 14 x 90 mm
LS 3/8" (10 mm): 16 x 16 x 95 mm

Quality Beyond Compare

At Pickardt Marking Tools, quality is our cornerstone. Our hand stamps are made from carbon steel and are hand-hardened to ensure superior performance. They are also chemically nickel-plated, providing an additional layer of safety and rust protection. These symbol stamps excel in demanding industries such as steel construction, die construction, forging, and blacksmithing. They are equally at home in the DIY and hobby sector.

Safety, Reliability, and Value

We understand the importance of safety in your work. Striking tools can be hazardous, which is why Pickardt is all about offering tools that are not only durable and long-lasting but also designed with user safety in mind. Our tools are not brittle, reducing the risk of shrapnel-related injuries, especially to the eyes.

To enhance safety, many of our steel stamps are longer, providing an improved grip. We also offer options with indestructible hand grips on the shank of the tool or a separate safety grip. Your safety is our priority.

Summary


Uses: Our steel stamps are suitable for marking materials ranging from aluminum to stainless steel, certain leathers, plastics, and sometimes wood, with numbers, letters, or symbols.
Exceptional Quality: Our hand stamps are hand-hardened for high quality, with standard font heights of 6, 8, and 10 mm (other font heights available upon inquiry).
Versatility: The punches have a turned hammer head and are hand-ground to the engraving, making them suitable for demanding areas such as forging, die construction, or steel construction.
Rust Protection: Our hand stamps are chemically nickel-plated and come packed in plastic boxes for convenience.
MADE IN GERMANY: When you choose Pickardt, you choose precision, craftsmanship, and reliability.
Letter Size                 Body Dimensions
| | |
| --- | --- |
| LS 1/4" (6 mm) | 12 x 12 x 85 mm |
| LS 5/16" (8 mm) | 14 x 14 x 90 mm |
| LS 3/8" (10 mm) | 16 x 16 x 95 mm |