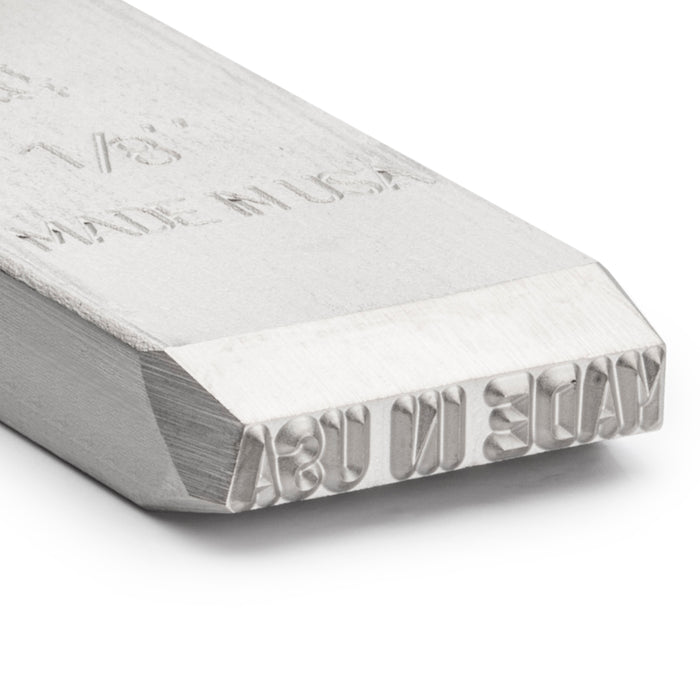 Pickardt MADE IN USA Special Hand Stamp
Current Price
Shipping and tax calculated at checkout

Pickardt MADE IN USA Special Hand Stamp
This Pickardt MADE IN USA Special Hand Stamp is the ideal choice for both professional and beginner engravers, providing an easy to use, high-quality tool made with the finest materials. With its special hand stamp, consistent and precise results can be achieved with each use.
Often used in serial marking, the MADE IN USA Stamp is very easy to use and requires no special training or equipment. To mark a component all that is required to do is strike the stamp with the hammer where you intend to leave the mark. 
Body measurements (SH = Symbol Height)
| | |
| --- | --- |
| HS 1/8" (3 mm) | 10 x 10 x 80 mm |
| HS 1/4" (6 mm) | 12 x 12 x 85 mm |
| HS 5/16" (8 mm) | 14 x 14 x 90 mm |
| SH 3/8" (10 mm) | 16 x 16 x 95 mm |
Quality of our Special Hand Stamps
We at Pickardt Marking Tools pride ourselves on the quality of our marking tools.
Made with carbon steel and hardened by hand, our steel stamps are chemically nickel-plated to provide an extra layer of user safety and protect from rust. These symbol stamps can be used in the most demanding areas such as steel construction, die construction, forging and blacksmithing. They are equally at home in the DIY and hobby sector.
Why quality is important:
Pickardt is all about offering Safety, Reliability and Value.
The number of injuries related to Striking Tools is at a higher percentage than any other tool category without the tool itself adding to the danger.
Pickardt prides itself on offering Tools that are heat treated and so are more durable and long-lasting, and not brittle where shrapnel could cause various injuries with the most severe usually involving the eyes.
Unfortunately, it is impossible to keep people from hitting the tool in the wrong place or missing completely sometimes. To try and safeguard the users hand and fingers from being hit, Pickardt steel stamps are often longer for improved grip or offered with indestructible hand grips on the shank of the tool or even supplied with a separate safety grip.
Summary

Steel Stamps are used to mark anything from Aluminum to Stainless Steel, certain leathers, plastics and sometimes wood, with numbers, letters or symbols.
Manufactured from special Carbon Steel for more demanding environments
Hardened by hand to precise limits to ensure maximum safety in use
Sharp faced, exact character engraving using CNC technology
Clear positive impressions
Bevelled to the engraved face for ease of sighting
Chemically Nickel Plated to resist rust
Packed in strong Plastic Cases