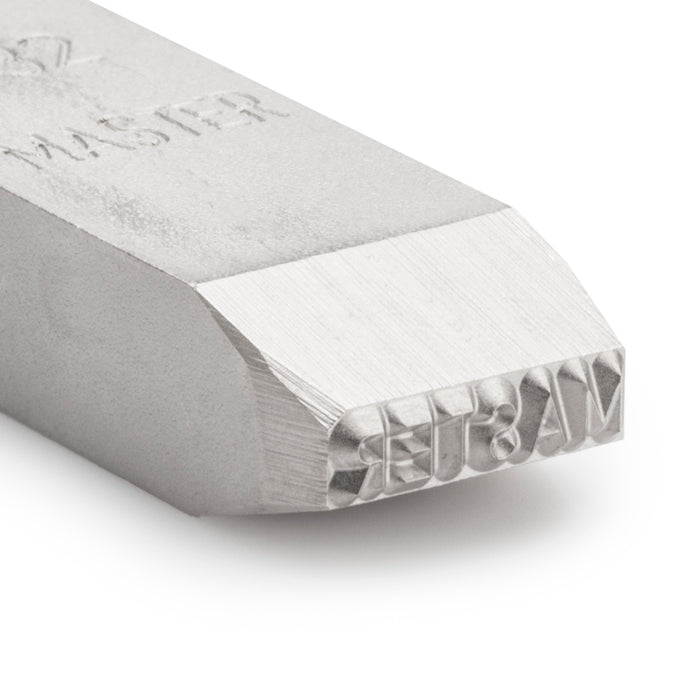 Pickardt MASTER Special Hand Stamp
Current Price
Shipping and tax calculated at checkout

Introducing our high-quality steel hand stamps, designed for precise and clear engraving of the word "MASTER" on a variety of products. Our hand stamps are popularly used by locksmiths, but are suitable for anyone in need of clear and long-lasting engraving.
Our hand stamps are manufactured from special carbon steel, ensuring their durability and suitability for more demanding environments. Each stamp is hardened by hand to precise limits, ensuring maximum safety during use.
Our hand stamps utilize sharp-faced, exact character engraving, thanks to our use of state-of-the-art CNC technology. This technology ensures clear positive impressions and allows for beveling to the engraved face for ease of sighting.
Our hand stamps are also chemically nickel-plated, providing resistance against rust and ensuring longevity. Packed in strong plastic cases, our hand stamps come in two sizes: LS 1/16" (1.5 mm) and LS 3/32" (2.5 mm).
Multipurpose
Not limited to the locksmith industry but also ideal for such as property service departments in large institutions to identify, audit, and control key use or even for the property conscious homeowner who likes to keep track of their keys for any new locks.  
Choose our steel hand stamps for high-quality, precise engraving that lasts.
Body measurements (LS = Symbol Height)
| | |
| --- | --- |
| LS 1/16" (1.5 mm) | 10 x 10 x 80 mm |
| LS 3/32" (2.5 mm) | 10 x 10 x 80 mm |
 
Summary
Steel Stamps are used to mark anything from Aluminum to Stainless Steel, certain leathers, plastics and sometimes wood, with numbers, letters or symbols. 
Manufactured from special Carbon Steel for more demanding environments
Hardened by hand to precise limits to ensure maximum safety in use
Sharp faced, exact character engraving using CNC technology
Clear positive impressions
Bevelled to the engraved face for ease of sighting
Chemically Nickel Plated to resist rust
Packed in strong Plastic Cases