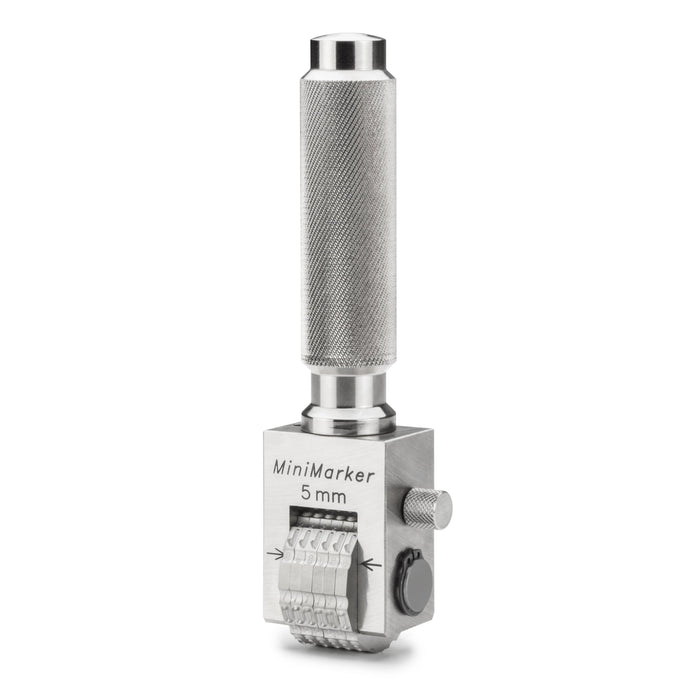 Pickardt MiniMarker Type B Numbering Head with 6 Wheels
Current Price
Shipping and tax calculated at checkout

Pickardt Numbering Head MiniMarker Type B – a compact yet powerful solution for indent marking batch codes, part numbers, serial sequences, date stamps, year marks, and various other numbering requirements. Whether you're dealing with limited production runs or budget constraints, this versatile tool offers the quality marks you need without the need for extensive marking machinery.

Unparalleled Quality with CNC-Controlled Engraved Wheels

The Pickardt Numbering Head MiniMarker Type B ensures a high-quality mark every time, thanks to its CNC-controlled engraved wheels. This technology guarantees clear and even depth of impression, ensuring that your marks stand out with precision and clarity.

Versatility for Diverse Marking Needs

Many products require specific markings, such as batch codes and dates, without the need for large-scale equipment. HW Pickardt understands this, and that's why we offer a full range of indexing units designed for manual use with a hammer or hand.
Key Features


Compact and space-efficient design
Case dimensions: 54 x 30 x 55 mm
Options for impact handle or clamping pin attachment
Available font sizes: 3/16" + 1/4" (5 + 6 mm)
Equipped with 6 wheels and an 11-part engraving arrangement
Engravings include numbers 0 - 9 and a spacer
Suitable for hand hammering or installation in a press
Standard with a hammer handle, with a clamping spigot available on request
All parts are chemically nickel-plated and available as individual standardized components
Proudly MADE IN GERMANY

Quality You Can Rely On: Pickardt Numbering Head

At Pickardt Marking Tools, we take immense pride in the quality of our marking tools. Crafted from carbon steel and meticulously hand-hardened, our steel stamps are chemically nickel-plated for additional user safety and protection against rust. These symbol stamps excel in the most demanding sectors, including steel construction, die construction, forging, and blacksmithing. They're equally suited for DIY and hobbyist applications.

Why Quality Matters: Safety, Reliability, and Value

Safety is paramount, especially when working with striking tools. Injuries related to Striking Tools account for a higher percentage than any other tool category, even when the tool itself isn't inherently dangerous. That's why Pickardt prioritizes tools that are heat-treated for durability, long-lasting, and non-brittle to minimize the risk of shrapnel-related injuries, particularly to the eyes.

To enhance safety, many of our Pickardt steel stamps feature extended lengths for improved grip or are available with indestructible hand grips on the shank. Some are even supplied with a separate safety grip for added protection.

Summary


Pickardt's standard marking tools offer cost-effective indent marking solutions for part identification and traceability, meeting government regulations and industry standards.
Explore the Pickardt Pin Locked Impact Stamp, an ideal choice for random inscriptions, batch numbering, or serial marking of parts.
Quickly and efficiently mark clear and legible impressions on a wide range of materials, including metals and plastics.
Pickardt Numbering Head: Enjoy a solid construction built to withstand high loads.
Benefit from the striking cap with an integral hand guard for added safety.
Choose from standard character sizes of 2, 3, and 4 mm, with 6 wheels for versatility.
Engrave on each wheel with numbers 0 - 9 and a spacer for non-marking positions, ensuring flexibility in your marking needs.