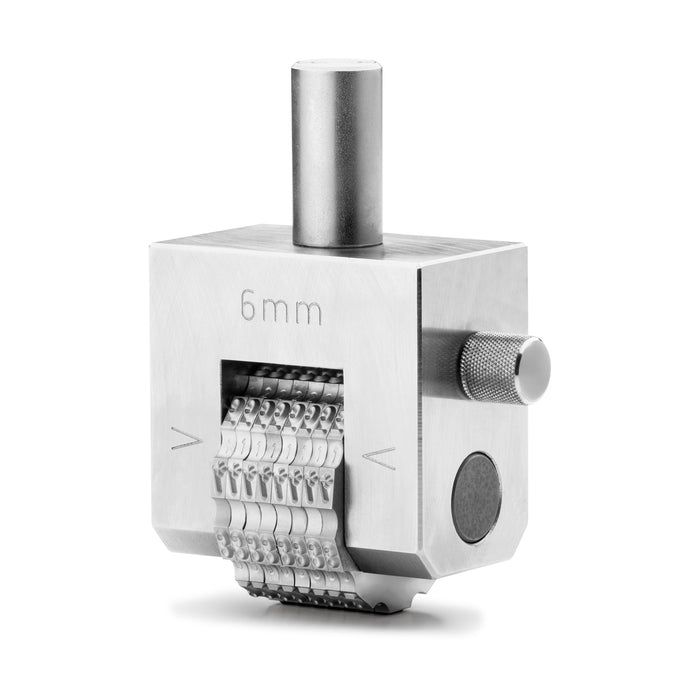 Numbering Head NPS 400
Current Price
Shipping and tax calculated at checkout

Introducing the Pickardt Numbering Head for Machines NPS 400 - the ideal tool for precise and efficient numbering of parts and products. This high-quality numbering head is designed to provide excellent performance and longevity, making it an essential addition to your workshop or manufacturing facility.

The Pickardt Numbering Head NPS 400 comes standard with a character height of 2-18 mm, with possible sizes of up to 40 mm, making it versatile for a wide range of applications. The hand-adjustable feature ensures that you can achieve the exact numbering you need quickly and easily.

The non automatice numbering head comes standard with 6 or 10 wheels, providing you with flexibility to choose your preferred setup. The solid construction of this numbering head ensures durability and stability during use, while the ball pin locking mechanism allows for easy adjustment of the wheels.

The Pickardt Numbering Head NPS 400 is also chemically nickel plated for added protection against wear and tear, ensuring long-lasting performance. All parts of this numbering head are available separately, making maintenance and repairs quick and easy.

The engraving of 0-9 and space adds convenience and versatility to this product, making it an ideal tool for use in a wide range of industries. Additionally, the included shank diameter of 20 x 40 mm (in a thread M 12) ensures compatibility with most machines.

The Pickardt Numbering Head NPS 400 is also available as hot stamping, making it even more versatile. Delivery time is up to 4 weeks, and you can be confident that you'll receive a high-quality product that will meet your needs for years to come. Order now and enjoy the precision and convenience that this numbering head provides!
Details
Standard sizes Shop 2 – 12 mm
Standard sizes generally up to 18 mm
Possible sizes up to 40 mm
Hand Adjustable
Standard 6 or 10 wheels 
Solid construction with view marking to control
With ball pin locking to adjust the wheels
Chemically Nickel plated
All parts available separately
Engraving: 0-9 and space
Included a shank Diameter 20 x 40 mm ( in a thread M 12 )
Also available as hot stamping available ( please inquire )