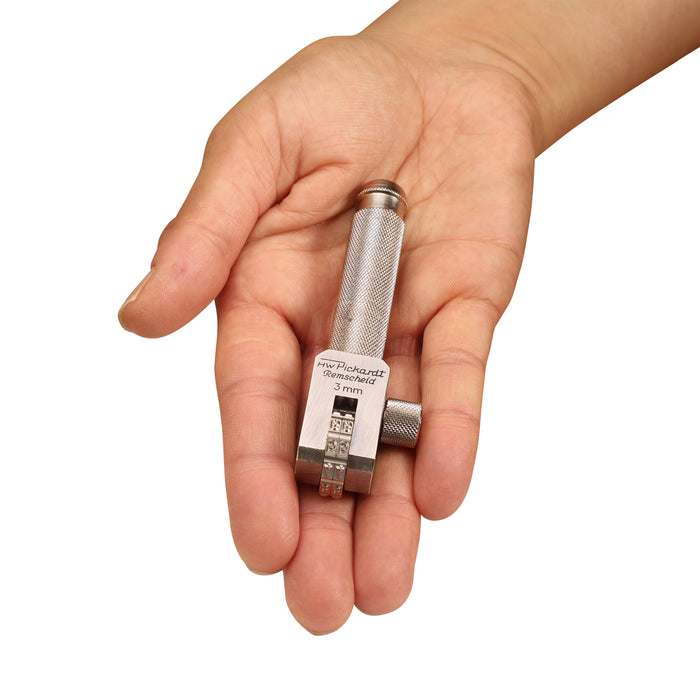 Pickardt TinyMarker TM15 Numbering Head
Current Price
Shipping and tax calculated at checkout

**Compact and Manually Adjustable Numbering Head for Efficient Marking**
*Versatile Marking Tool for Various Applications*
Discover the convenience of our manually adjustable numbering head, a compact and efficient tool for precise markings. Whether you're in a workshop or on-site, this numbering head offers flexibility and reliability.
Key Features
Compact Design: Similar in size to a handheld standard numbering head, it's easy to carry and use.
Bench or Field: Ideal for both bench marking applications and fieldwork, ensuring versatility.
User-Friendly: Rotate character wheels and secure them in place with the locking pin for clear and consistent markings.
Efficient Marking: Perfect for date marking, year stamping, batch coding, and inspection purposes.
From Germany: German factory made, for top-notch quality and reliability.
Quality
Exceptional Durability and Safety
At Pickardt Marking Tools, quality is paramount. Our steel stamps, including the numbering head, are crafted from carbon steel and meticulously hardened by hand. They undergo chemical nickel-plating, enhancing user safety and preventing rust.
Marking on Multiple Surfaces
Our symbol stamps are versatile, catering to industries like steel construction, die construction, forging, and blacksmithing. They're equally suitable for DIY and hobby sectors, offering reliability and value.
Prioritizing User Safety
Striking tools pose a risk of injuries, but Pickardt's heat-treated tools enhance durability without becoming brittle, reducing the risk of injuries. Safety is a priority.
Safeguarding Users
To protect users from accidents, our steel stamps are designed for improved grip and sometimes come with indestructible hand grips. We also offer separate safety grips for added protection.
Details Numbering Heads
Manufactured for Demanding Environments
Our numbering head is made from special carbon steel, designed to thrive in challenging environments.
Precision and Sharp Engraving
Hand-hardened to precise limits, our marking tools feature sharp-faced, CNC-engraved characters for clear and positive impressions.
Rust-Resistant
Chemically nickel-plated to resist rust, our marking tools maintain their quality over time.
Sturdy Packaging
Our numbering head and other tools are packed in durable plastic cases, ensuring they reach you in top condition.