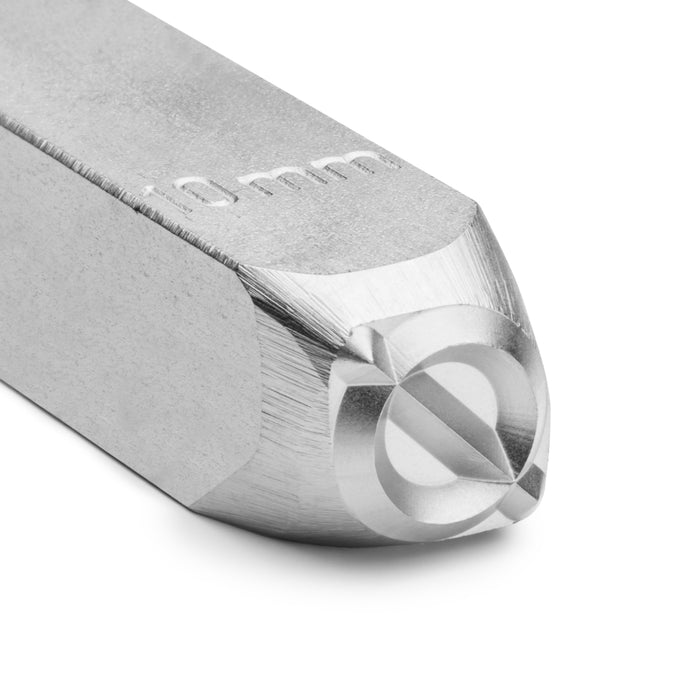 Pickardt Ø Diameter Symbol Hand Stamp
Current Price
Shipping and tax calculated at checkout

Discover the Ø Diameter Symbol Steel Hand Stamp: Easy-to-Use and High-Quality Marking Tools

Quality You Can Trust:
At Pickardt Marking Tools, we take pride in our top-notch marking tools. Crafted from carbon steel and hand-hardened, our steel stamps are chemically nickel-plated for added user safety and rust protection. Whether in steel construction, die construction, forging, blacksmithing, or DIY projects, our symbol stamps excel.
Body measurements (LS = Symbol Size)
| | |
| --- | --- |
| LS 1/8" (3 mm) | 10 x 10 x 80 mm |
| LS 1/4" (6 mm) | 12 x 12 x 85 mm |
| LS 5/16" (8 mm) | 14 x 14 x 90 mm |
| LS 3/8" (10 mm) | 16 x 16 x 95 mm |

Details

Our steel hand stamps can mark a range of materials, from aluminum to stainless steel, leather, plastics, and even wood, with numbers, letters, or symbols.
Why Quality Matters:
Pickardt prioritizes Safety, Reliability, and Value. Striking tools have a high injury rate, but our heat-treated tools are durable, reducing the risk of shrapnel-related injuries, especially to the eyes. We also offer longer stamps for improved grip and indestructible hand grips for added safety.

Key Features Hand Stamp:
Manufactured from special Carbon Steel for demanding environments
Steel hand stamps hand-hardened for maximum safety
CNC technology for sharp and precise character engraving
Clear, positive impressions
Beveled for easy sighting
Chemically Nickel Plated for rust resistance
Comes in sturdy plastic cases
MADE IN GERMANY

Ensure your marking tasks are safe, precise, and efficient with Pickardt's Ø Diameter Symbol Stamp. Upgrade your tools today for quality you can rely on!