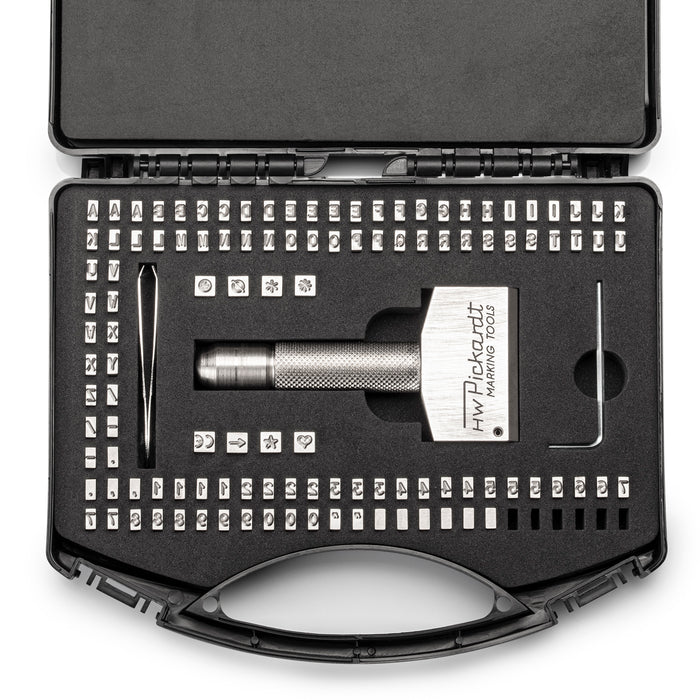 Pickardt 114 piece TS 114 Interchangeable Steel Type Set with Logos
Current Price
Shipping and tax calculated at checkout

Steel Type Stamps and Holders Set TS 114
Introducing our 114-piece engraving type set with type holder - the perfect tool for any engraver or jewelry maker looking to add precise and professional-looking lettering to their work.
This comprehensive set includes a wide variety of letter , number stamps and logos. The stamps are made of high-quality steel for durability and accuracy, ensuring clean and clear impressions every time. The set also includes a sturdy type holder, which makes it easy to organize and access the stamps you need.
Whether you're working with metal, wood, leather, or other materials, this engraving type set is versatile and reliable. With 114 pieces to choose from, you'll have endless options for customizing your work with intricate and beautiful lettering.
This set is perfect for engraving a variety of items, such as nameplates, jewelry, trophies, and more. It also comes in a convenient carrying case, making it easy to bring with you to different job sites or to store in your workshop.
Invest in our 114-piece engraving type set with type holder today and take your engraving game to the next level!
Details
Font, blank sizes and holder capacity:
| | | | |
| --- | --- | --- | --- |
| SH: 2 mm = 5/64" | Blank Size | 2 x 4 x 19 mm  | Holder room: 15 digits |
| SH: 3 mm = 1/8" | Blank Size | 3  x 6 x 19 mm | Holder room: 12 digits |
| SH: 4 mm = 5/32" | Blank Size | 4 x 8 x 19 mm | Holder room: 10 digits |
| SH: 5 mm = 3/16" | Blank Size | 5 x 8 x 19 mm | Holder room: 8 digits |
| SH: 6 mm = 1/4" | Blank Size | 5 x 8 x 19 mm | Holder room: 8 digits |
Pickardt advanced manufacture provides tight tolerance blanks for perfectly aligned indent marking.
Precise embossing tool for fast and efficient marking, for example, of metals, non-ferrous metals, plastics etc. with a strength of up to 1300 N / mm 2. The hardness of the steel types is HRC 60 -2.
Character engraving created with CNC controlled engraving machines, giving consistent character formation and depth of engraving for a clear, quality impression of consistent depth.
Pickardt's 114 piece TS 114 interchangeable steel type set is a must-have for any professional engraver. Each piece is crafted from hardened steel, providing long-lasting images every time. This set includes types, logos and hand stamps that can be used with a wide range of materials. Durable and dependable, this type set is the perfect choice for engravers seeking professional results.
Highlights of Interchangeable Steel Types
All parts are chemically nickel-plated to prevent rust.

Letters, numbers and special characters can be put together in a type holder as you like

The engravings are made with CNC-controlled engraving machines

Clear and clean typeface in one fell swoop

Sensible selection of 100 steel types and 6 blind types 8 Logos

Special fonts such as Cyrillic, dotted fonts or mirror fonts are possible

Identification of, for example: steel, non-ferrous metals, plastics, part numbers, nameplates, machine parts, keys, etc.

Delivery in a sturdy plastic box with separate division of the products inside

Can be used in a press (mounting pin must be ordered separately)

The type holder has a hardened pressure receptacle

The shaft for the steel types is EDM

MADE IN GERMANY

In short industrial strength

Interchangeable Steel Types